Course Registration
ADV - Gathering Partners - A Conference for Friends of Minnesotas Natural Resources
Gathering Partners - A Conference for Friends of Minnesotas Natural Resources website
Online
Zoom, MN 55555


We hope you can join us for this year's Gathering Partners conference! This annual event is a favorite for friends of Minnesota's natural resources, including volunteers, landowners, citizen scientists and advocates.

From phenology to climate change, wildlife watching to invasive species management, you will spend your days learning about Minnesota's ecology in your choice of virtual conference sessions. Stick around after the sessions for a virtual happy hour, game show night, and other fun activities!

This year we're honored to welcome keynote speaker Parker McMullen Bushman. ​Parker is the Colorado State University Director of Extension for the City and County of Denver, as well as a passionate voice for equity and inclusion in conservation and the outdoors. She works with environmental organizations to aid them in building culturally diverse and culturally competent organizations that are representative of the populations that they hope to reach and serve.

In addition to full access to all our virtual sessions and activities, we are offering the option to purchase up to three in-person field trips. Choose from 18 expert-guided excursions at various locations along the North Shore, including the Cloquet Forestry Center, Sugarloaf Cove, Flood Bay, Sax-Zim Bog and Wolf Ridge.

Deadlines and financial aid
Registration is open now through May 10. Cancellations until May 10 will receive a full refund; no refunds for cancellations after May 10.

If the $60 registration fee presents a barrier to your ability to participate in the conference, we have some options available to you. Send us an email at gatheringpartners@umn.edu and we will work to ensure your ability to join us, learn, and participate, regardless of your financial situation.

#NatureInPlace Bingo - Spring edition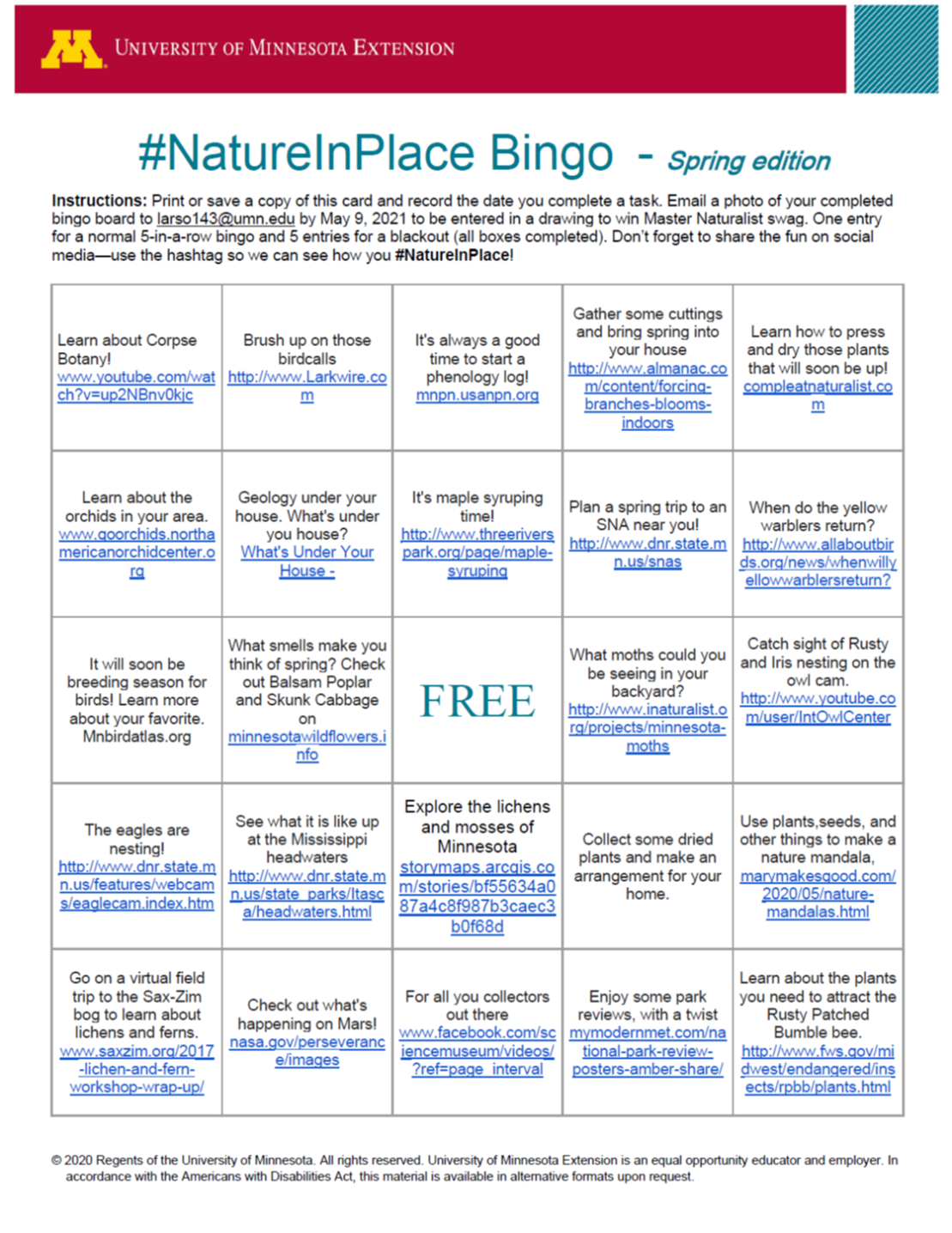 Amy received a BA in Elementary Education from the College of St. Scholastica and a MEd in Environmental Leadership and Learning from the University of MN. She has worked for cooperative extension for 28 years in various positions, but has always tied her work to the environment. She is currently the state program director for the Minnesota Master Naturalist Program.
Andrea Lorek Strauss grew up playing outdoors at every opportunity. Today, she is an environmental educator with the University of Minnesota Extension with an undergraduate degree in Education and Communication Arts, and a MSEd in Curriculum and Instruction/Outdoor Education. Past work gigs include 9 years with the International Wolf Center in Ely, MN, 2.5 years with the Prairie Ecology Bus Center in southwest Minnesota, and various naturalist roles in the Boston area, northern Minnesota, and New York state.
Angie Gupta is an Extension Forester based in Rochester, MN. Her professional focus is to train natural resource professionals and forest land owners about terrestrial invasive species and general best practices for maintaining healthy forest ecosystems.
Britt Forsberg is the program coordinator for the Minnesota Native Bee Atlas, a citizen science program developed to create an open, comprehensive database of native bee species in Minnesota. She uses her experiences leading youth and adults in inquiry science and the outdoors to help guide students to the realization that anyone can be a scientist. Britt holds a BA in Biology and Environmental Studies from Gustavus Adolphus College and an MEd in Family Education from the University of Minnesota.
Sponsor Information
---
Register Now!
Seats Taken: 91 of 500