About Minnesota Master Naturalist
Who can be a Minnesota Master Naturalist Volunteer?
Any adult who is curious and enjoys learning about the natural world shares that knowledge with others and supports conservation. If you enjoy hiking, bird watching, following tracks, or identifying wildflowers, you'll love being a Minnesota Master Naturalist Volunteer. Minnesota Master Naturalist Volunteers are a motivated group of fun and interesting people: teachers, retired professionals, nature guides, hunters, eco-tour operators, farmers, and...YOU!
The Minnesota Master Naturalist Volunteer Training Course consists of 40 hours of in-classroom training. The classroom training includes a variety of teaching methods—lectures, PowerPoints, hands-on activities, videos, and field trips that provide the participants with information on Minnesota's natural history. The course is designed to be a general overview of Minnesota's three biomes. Each class series focuses on one of the three biomes: Big Woods, Big Rivers; Prairies and Potholes; and North Woods, Great Lakes.
Attendance Policy
Participants must complete 40 full hours of training to become certified Minnesota Master Naturalist Volunteers. You will be certified in the biome that you take, you need only take one biome to be considered a Minnesota Master Naturalist Volunteer.
Volunteer Service
Following the completion of the training course, Minnesota Master Naturalist Volunteers will be expected to complete 40 hours of volunteer service per year to be considered an active Master Naturalist. Any time spent on the Capstone Project and any volunteer service hours completed after graduating from the training course may be counted towards the 40 hours. There are four basic areas of service:
Stewardship Projects—these projects would involve natural resource management activities such as invasive species removal or restoration projects.
Education/Interpretive Projects—these projects would be public presentations of natural resource information, educational materials development, or leading hikes.
Citizen Science Projects—these projects would focus on volunteers gathering data and returning it to researchers to support the research projects. Examples would include Monarch larval monitoring, plant or animal counts, or water quality monitoring.
Program Support—these projects include working in a store or office of the Minnesota Master Naturalist or sponsor or serving as a local chapter organizer.
How much do the courses cost?
Each course costs $295.00 and includes course manuals and supplies.
Scholarships Available
If the $295.00 fee is a hardship, fill out the Minnesota Master Naturalist Scholarship Form and send it to us.
National Public Lands Day
National Public Lands Day 2018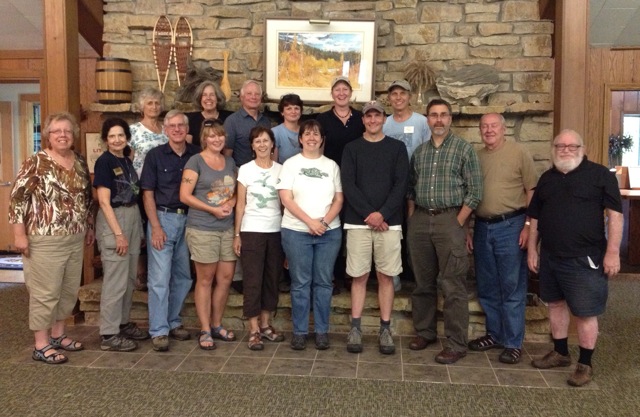 Ten Year Anniversary Timeline
Ten Year Anniversary Publication
Annual Reports
Special Thanks
Minnesota Master Naturalist Program wishes to thank all those who have contributed in making our program possible!